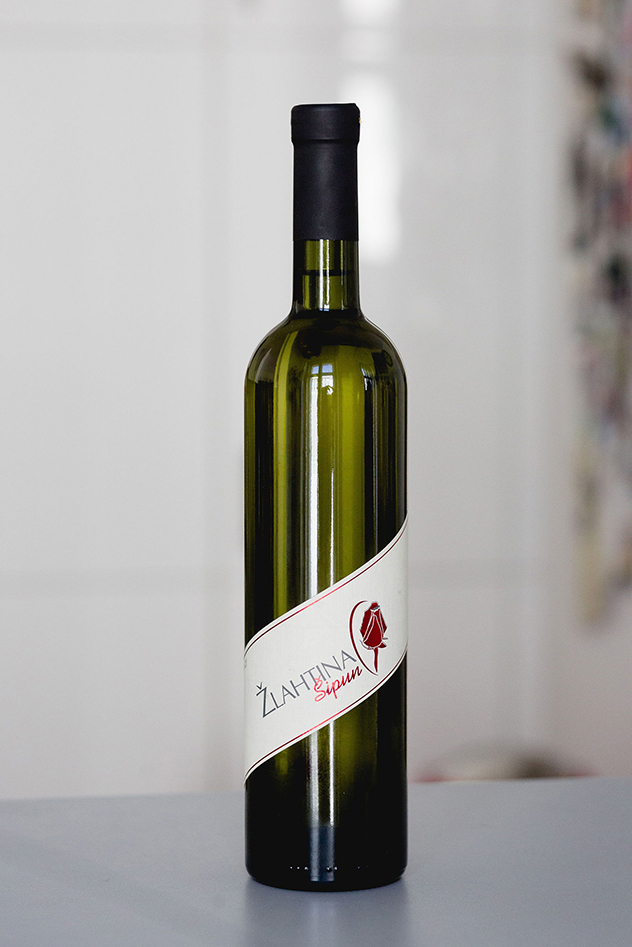 Žlahtina is a white Croatian, coastal, autochthonous grape variety. It was named after the old, original Vrbnik name for "noble". It is of oriental origin, medium lushness and medium high yield.
It is grown mostly in Vrbničko polje – which originated as a product of flooding throughout history, but today more and more Žlahtina plantations are spreading outside Vrbnik to top positions for wine production – slopes to the southwest, where many new potentials of this variety come to the fore.The wine obtained from Žlahtina is low in alcohol (11-12% vol. Alcohol), slightly lower in acid (4.5-5 g / l), and weaker in body (structure), therefore very light. It is greenish-yellow in color, fruity, discreet aromas and flavors, which is why many call it summer, evening wine.
It is recommended to serve at a temperature of 10-12 degrees C.
Sansigot (sušćan) is a black, autochthonous, Croatian grape variety. It is named after the island of Susak, which the locals call Sanseg.
The distribution of Sansigot was from the North Adriatic – Kvarner to the Zadar island archipelago.
Sansigot is a wine with pleasant aromas of cherry and sour cherry, light, low alcohol – 12% Vol., Structurally not difficult.
A special note is given by keeping it in barrique barrels made of Slavonian and French oak in combination for a period of 7-8 months.
Trojišćina is a red grape variety.
It has long been grown on the sandy Kvarner island of Susak, but it was also quite widespread in the vineyards of the neighboring Kvarner islands, especially Cres and Lošinj.
Rose Šipun from the autochthonous Kvarner grape variety Trojišćina red is a light, gentle and rosy, pleasant, refreshing summer wine. Trinity is drunk fresh, chilled. It is characterized by fruity aromas of melon, watermelon, peach and raspberry, and beautiful durability.
For now, only our winery offers dew from this original Croatian variety.
Kapitul is dark (red) wine, coupage also known as Bordeaux. It is made out of three grape varieties – Cabernet Sauvignon (70%), Merlot (25%) and Petit Verdot (5%). Vineyards are located close to Vrbnik, on the location Hlam, at 225m above sea level.
The plantation is of south-west exposure and favourable inclination. Vine yields are very low consisting of 500 g per vine. During the technological processing of this wine it is aging for 2 years in oak barrique barrels (70% French oak, 30% Slavonian oak), and it matures in bottles for 2 more years.
Kapitul is a wine with a very strong structure, pleasant tannin and is characterized by cherry, berry, coffee and cinnamon smell.
Recommendation: to decanter
Maličić is a sparkling white wine done according to the charmat method. The base wine for its production is Žlahtina grape variety.
Grape harvesting for this sparkling wine starts around ten days before the regular harvesting, therefore its features are pleasant freshness and green colour.
It is characterized by citrus and floral smell and is it especially recommended as a refreshment during hot summer days.